Maggie McFee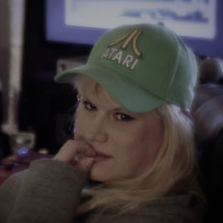 Maggie McFee lives in Cambridge and works as a sysadmin and IT manager for the physics department of that big local university that tends to causes road and foot congestion and weird parades from Fall to Spring. On her website she describes herself as a 'technologist', whatever that means. Mostly it seems to mean that she likes to test, break and build hardware and waste her money on gadgets.
For Boston Skeptics, Maggie handles the video production (shooting and editing) and occasionally does some site maintenance . You may also have seen her running around filming at NECSS or talking at TAM. But, frankly, she's not as social as all that and, otherwise, tends to huddle in her cave watching movies, Top Gear and sometimes reading comics or drawing SacreMoo.
And about her hair – Yes, she's been dying it that bright red/whatever color since around 2001/2002, and yes the picture up there is one of the few where it's not. UPDATE: After writing this, she decided to take a break. So, blonde it is… for now.